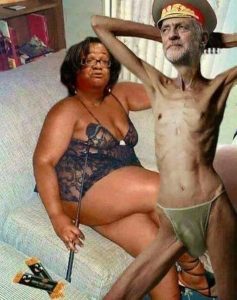 I've read and heard a lot of people have been saying, "Corbyn is a man of principles." I disagree.
He voted to NOT join the E.E.C. in the 70s; he voted AGAINST Maastricht; however when it came to the big one last year, the dozy bell-end towed the (Tory) party line, consequently both going against his "principles" as well as choosing the wrong side.
Furthermore, where were his "principles" during that whole train debacle? What an embarrassingly monumental turd he looked, despite the fact it was engineered by Richard "Atlantic-sized cunt" Branson.
All politicians are vile, foul, power-seeking liars. I like Mark Twain's quote about giving the power to the person who wants it the least. Nonetheless, this time I'll vote to whoever delivers Brexit the fucking quickest.
Nominated by captain Magnanimous