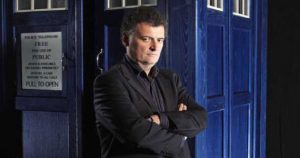 Steven Moffat is still a ginormous cunt…
The pube headed one has now told Doctor Who fans who have complained about the all new feminazi PC lady Doctor to 'Shut the hell up!'…. The arrogance of this wankstain is astounding…. Openly refers to himself as the 'Showrunner' of Doctor Who… Not even the infamous John Nathan Turner did that… Moffat also seriously believes his convoluted PC obsessed dogdirt has made the show better and that every event or story in history, time and space featuring blacks, gays, wimmin and lezzzas is plausible…
I wouldn't blame Capaldi one bit if he decked this smug self satisfied spunkbubble, for ruining the chance of a lifetime and destroying a TV legend into the bargain…
And that Gatiss is a cunt and all….
Nominated by Norman
I'm praying the new ultra PC doctor Who takes a huge ratings hit, Moffatt is a 24 carat cunt, nothing would please me more than to see this once brilliant TV programme spectacularly bomb!….
Watch the shit stains over at the guardian and the not so big up the new series of DW for all their worth….As a poster said In a previous thread " you can tie a bow around it but it's still a turd"….
Nominated by Quislings