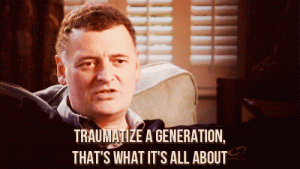 I'm nominating Stephen Moffat for a cunting. Due to the fact the Scottish twat turned the Master in to Missy towards the end of last season, I stopped watching, on the basis that Stephen Moffat is a politically correct, far left shithouse, with pubic hair on his head. He couldn't write the alphabet without adding some kind of left wing slant to it.
When the new series started the Saturday before last, I decided to give it a chance, just in a case a miracle happened, and he'd written a script that was actually entertaining, rather than a load of left wing drivel. I should have known better, but I'm nothing if not optimistic. I had to turn it off after Missy made a comment to Clara about, 'when the Doctor was a little girl'.
Moffat seems to be oblivious to the fact that he is going to ruin a much loved show, with his obsession with making at least one incarnation of the Doctor female. What is it with left wingers, that makes them feel the need to piss all over once great television shows, by adding a left wing agenda? With Russell Davies, it was about promoting faggots and faggotry. With Davies, it's about promoting 'gender reassignment'. On a couple of occasions, Missy referred to herself as a 'Timelady'. Considering she used to be a man, it would be more accurate to call her a 'Timetranny'.
From now on, I'm only going to watch the original series of Dr Who. Hartnell through to McCoy. They may have been corny as fuck, but they were at least unburdened by any PC bullshit.
Nominated by" Quick Draw McGraw