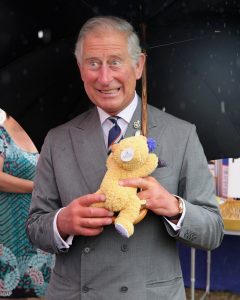 Yes, the old wingnut is at it again, with his clueless insight as to what constitutes 'charity' and his obvious residency of another planet to the rest of us.
His charitable foundation has seen fit to fund the following:
YOGA, MEDITATION AND BREATH-FOCUSED STRETCHES FOR YOUNG PRISONERS.
'READ ALL ABAAAAT IT!' here: https://www.telegraph.co.uk/royal-family/2019/01/08/prince-charles-funds-yoga-meditation-young-prisoners/
I have seen a lot of cuntery lately, but this cuntery takes the fucking giant hobnob. Forget about the sick and the underprivileged, forget about struggling small community charities, forget about people freezing on the streets at this time of year, lets help useless, criminal, deviant fucktards who got themselves locked up through their own free will to 'get chill and zen' while they are banged up.
Apart from the fact that jug ears saw fit to select that old horse to have an affair with and marry, this is more evidence of how he really does not ever play with a full deck. Yes, let's fund yoga for the poor young offenders as prison is such a nasty place for the little dotes.
The only 'stretches' these ASBO wasters should be concentrating on is the stretch inside the place they fucking well put themselves.
HAIRBRAINED (or should that be hairLESS) CUNT!!
Nominated by Nurse Cunty