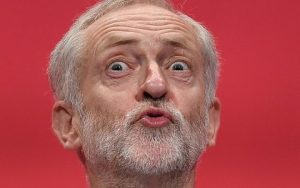 ABC Anyone but Corbyn.
The wizened old commie cunt couldn't win the last election and his party is beyond fucked. Overrun with hard left Jew haters and a shadow front bench that would make Joey Deacon look bright.
Diane Abbot as home secretary? Please.. John McDonnell as Chancellor? You have got to be fucking joking.
Mavis May may be useless but a useless tory PM is a lot less frightening than a commie Jew hating Britain loathing Muzzie appeaser.
Corbyn would flood the UK with hijab wearing inbred sporn producing future victims of domestic violence. As for the male Muslims….. How many more kids will get raped?
If Corbyn gets in, then I am off. Like many if my tribe, I always have access to ready funds should I need a flight out of the UK to safety.
A little bit of paranoia, you may think, but considering what happened to my tribe not so long ago it is understandable. I really do fear for the safety of my tribe if Labour get in.
Corbyn has made it clear he will ramp up the heat with Israel. It will be open season for Palestinian terrorist sympathisers, trade embargo's and the arrest of anyone who has ever served in the IDF.
Corbyn is totally obsessed with Palestine.
This cunt must never be allowed to get into power.
GOD SAVE THE QUEEN!
Nominated by Kravdarth