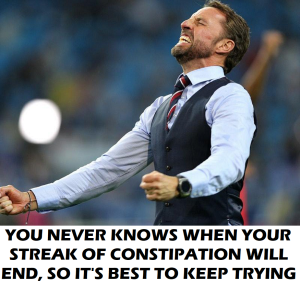 Sorry cunters for another football related nom but yes, it's Mr Gareth Southgate again.
Words just about fail me such is my contempt for this inept rat faced tosser.
Not content with his England snowflakes turning up in Budapest and stinking the place out with an abject performance – Mr SJW decides to once again lecture the uneducated masses on racism as well.
This game was originally due to be played behind closed doors to punish the Hungarian supporters for recent "racist" banners, anti alphabet people sentiment and booing of the now mandatory George Floyd tribute the last time the England woke roadshow rode into town.
However, the Hungarian FA exploited some vague loophole where children under 14 were actually allowed in to the stadium after all making a bit of a mockery of this so called punishment.
Anyway – just as the England players drop to their knees a cacophony of boos rings around the Puskas Arena much to the dismay of Southgate, the two Channel Four female presenters and money grabbing crock Michael Owen.
To make matters even worse for the sensitive woke types – the boos were obviously from the children in attendance.
Shock horror.
Enter Mr Wokegate who has decided that these children are all inherently racist thanks to their racist parents and are in need of "education" and yet more kneeling will be required.
No Gareth, perhaps like most other people – they just don't appreciate extreme leftist, race baiting propaganda shoved down their throats and maybe just want to watch football.
Kudos to the Hungarian kids is what I say.
Oh and Southgate…. you are a monumental, hopelessly out of your depth cunt.
Fuck off.
Nominated by: Herman Jelmet
A second knocked in by: Sick of it
In support of HJ's nom I am cunting Southgate with a vengeance, it is unbelievable that this cunt doesn't understand that the knee gesture has political connections that many people find unacceptable.
Having started this fiasco as a support for BLM (undeniable) how the fuck can he hope to somehow convince people that it isn't anymore and why continue with it, is just he too stubborn to let it go.
He talks about educating people, on what planet does going down on one knee educate anyone and with all the revelations about misuse of funds in the USA the BLM movement is being exposed as a toxic brand.
He makes the assumption that the 'young fans' are influenced by the older generation, I think he needs to understand that is what happens in all societies which is why our Yoof are becoming brainwashed into Tranny lovers.
It's football, it's national football and nations have their own values, they don't have to accept YOUR values, trying to inspire by a toxic gesture only adds fuel to the fire.
What a cunt!
(I hope German fans do likewise and that Germany beat England 5-0. – Day Admin)