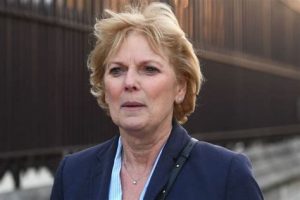 A right Independent, eye rolling cunting please for this demented old cunt, arch Remainer and the girl who cried wolf once too often.
Not for the first time, this loudmouthed old trollop calls for police assistance, because she is "frightened" during an interview. Like fuck she is, when she is in full ranting domineering mood, laughing at callers on phone-ins, bollicking Michael Gove or her former colleagues, she is never backward in coming forward.
The old cunt loves to draw attention to herself, then when it backfires she behaves like some Victorian virgin trapped on a troopship:
https://www.express.co.uk/news/uk/1100583/bbc-news-brexit-news-newsnight-anna-soubry-independent-group-brexit-vote-video
Enough already. If you can't stand the heat, stay out of the fucking kitchen you shitstain on the bloomers of Chukka's Blairite Boy Band.
Nominated by W.C. Boggs
Apparently Anna Soubry has called the police to report a protestor who called her a traitor.
Well, if you can't stand the heat darling then I suggest you stay out of the kitchen.
Far be it from me to pass any opinion on this other than to quote the immortal words of Francis Urquhart – you may very well think that but I couldn't possibly comment.
Nominated by Dioclese