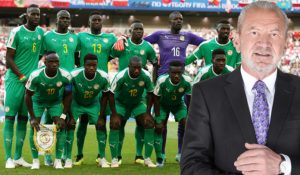 A cunting for Alan Sugar. OK, he is already a cunt but, along with a previously cunted Louis Hamilton he is a spineless cunt.
SrAlan call me Lord Sugar tweeted (where else?) an attempt at humour, saying the Senegal football team looked like Spanish sunglass sellers. Ho Ho. Perhaps they do. I have no idea. Cue fucking outrage from the twatterati, looking for offence. RACIST.
Now, had he said the Swedish team looked like ski instructors/porn stars/double glazing salesman would that be racist? No. And this tweet wasn't racist either.
At first he held firm but eventually apologised. For what? Piss poor jokes? No, for inadvertently making a racist comment.
Sugar is spineless cunt. The twatterati looking for offence should have been told to fuck off. They weren't so LordS'rAlan Sugar, you are a cunt.
Nominated by Cuntstable Cuntbubble
The BBC wants Alan Sugar to go on an 'unconscious bias' course after he tweeted about the Senegal football team.
What sort of bunch of cunts does it take to understand that if the 'bias' is 'unconscious' then there fuck all you can do about it because it's – errrr – unconscious. Seems the spineless PC (no relation) cunts at the Beeb are caving in to calls from Senegal for Sugar to be sacked from his job at the Apprentice.
Well, I think they should tell Senegal to fuck right off because I'm damned sure that cunt on the left sold me a pair of Ray Bans last year!
Nominated by Pedantic Cunt