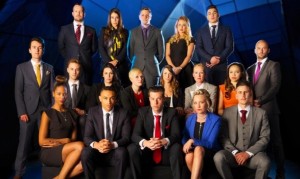 They will no doubt be deserving of individual cuntings, but I'd like to kick things off with a pre-emptive strike by saying that all 18 of them will, undoubtedly, be appalling cunts.
Vain, self-important, egotistical, brown-nosing, back-stabbing, money-grubbing, talentless cunts.
If I was in charge off the BBC then (apart from being a colossal cunt) I would apply the following format to the show:
Each time one of the cunts gets fired by Lord Cunt, when he says "you're fired" instead of pointing at them with his pudgy little digit, he actually pulls out a gun and, holding it sideways like a real badass, double-taps the cunt in the face.
Then after Sugar has wasted 17 of the cunts, the final cunt gets "hired" and breathes a massive sigh of relief… just before Karren Brady pops up and garrotes them from behind using her own G-string.
THAT'S ENTERTAINMENT!!!
Nominated by: Nickleby

BARONESS Karen Brady! What the fuck did she get a peerage for other than sucking up to LORD fucking Sugar? Whatever next? A knighthood for the winner?!?
The honours system is a fucking joke – but at least Brown and Blair didn't get a gong. Maybe that's because they weren't on The Apprentice? Just a thought…
Nominated by: Dioclese