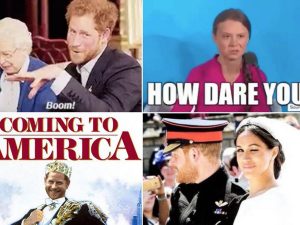 The story so far;
Having signed a $150m. deal with Netflix to produce films and tv series, Meghan plots her new career as a Hollywood A list 'power player'.
Now read on;
Lying on her sunbed by the side of the pool, the Duchess of Deceit narrowed her eyes against the blazing California sun and scribbled furiously onto her notepad. Lying restlessly at her side, the Half-blood Prince put down his magazine and stared down at his $1,000 designer trainers. Clearing he throat nervously, he muttered, "erm, is it alright if I tie my laces now, sweetness?".
In spite of the heat of the day, Harry felt a cold shiver as the Princess of Perfidy swivelled her gaze onto him. "What in heck are ya talkin' about?" she hissed.
"Ah, is it alright?", he stammered again. "Only it says here in 'Celebtwat' magazine that I can't even do my shoelaces up without your say so".
Meagain tapped her pen against her teeth in fury at having her train of thought broken. "Do ya even know how ta do that fer yourself Harry?", she said icily.
"Well it's deuced hard old girl", admitted Halfwit. "One's used to having a menial to perform these unpleasant tasks, you know. What are you doing, anyway?".
"Fer Gahd sakes" she muttered. "Ah'm tryin' ta work on the media release fer the deal. Now lissen up". The Princess of Perfidy snaked her tongue across her thin lips and began to read. "Now then… 'our lives have allowed us to understand the power of the human spirit; of courage, resilience and the need for connection. Through our work with diverse communities, our focus will be on content that informs and gives hope. As new parents, making inspirational family programmes is also important to us… Netfix's reach will help us to shape impactful content that unlocks action'. Mmm, so has that ticked the right boxes; ya know, worthy and virtuous enough for our A-list Tinseltown peers without sounding smug and pious, yet relatable to the common people?".
Harry grimaced, and his eyes wandered aimlessly. "Er, well sugarlump", he bleated, "you know I leave that sort of thingy to you…".
"Is the right answer" murmered Meghan darkly, snaking her body on the sunbed and stretching her sparrow legs. "Meantime, I've bin thinkin' about a name for the new production company, but I haven't hit on anythin' just right yet…".
"I say, but I've got a couple of jolly ideas for the company. How about we get dear old Uncle Eddie involved? He got bags of experience at this sort of thing; 'It's A Royal Knockout' and stuff…".
"Yes, yes, we'll see", murmured the Mistress of Manipulation placatingly, " but we need a name".
"Sorted", burbled Harry happily. "Call it 'Brown Windsor Productions', what?".
"Huh?" asked Meghan vaguely, "ain't that some kinda English soup?".
"It's a play on words pumpkin" wittered Halfwit, warming to his theme. "I'm the Windsor bit, you're the Brown bit; you know, touch of the tarbrush…".
"Jesus H. Chraast you… you…" stammered Meghan, a pulse beginning to throb menacingly on her forehead. "For Heaven's sake, gimme some peace. Go up to the nursery and see if the child even knows who ya are. And make yerself useful. Fire the kitchen help an' the maid. This iced soy latté is like dishwater".
"Of course sweetness", said Duke, leaping hastily to his feet, only to fall headfirst into the pool.
"Lissen ya idiot", yelled the Duchess, as Halfwit sputtered to the surface. "When ya lace yer shoes, you tie the laces separately, NOT together…".
To be continued.
Nominated by: Ron Knee
(For reference, here's the previous Markles Tomes – DA)