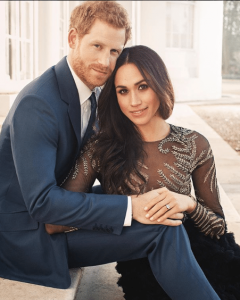 THE MARKLES; an everyday story of cunty folk.
The story so far; Meghan and the Half-blood Prince have fled smog-bound LA for a
mansion in Santa Barbara, from where the Mistress of Malice continues to plot her remorseless ascent to the Presidency. Now read on.
Meagain gazed rapturously across the immaculately cropped lawn of her new home to the California hills, shimmering in the haze of the afternoon heat. "Ain't it just all too wunnerful" she gushed greedily, "wine cellar, library, swimmin' pool, nine bedrooms, sixteen bathrooms… all for a mere fifteen million bucks. This is A+ list territory Harry; we done got Oprah Winfrey an' Ellen DeGeneres livin' right next to us in the hood!".
The Prince of Sighs blinked rapidly and an expression of doubt flickered across his gormless features. "Er, it's all very well and all that rot, pumpkin" he whimpered, "but a chap's never had the need to take out a mortgage in a chap's life before".
"Now you listen", hissed the Princess of Perfidy, her tongue flickering across her thin lips. "In this marriage, you leave the thinking to me, okay? 'Finding Freedom', the shocking, sensational story of how we were side-lined and betrayed by your family, is all set to fly off the shelves, an' soon I'll work out a movie deal for it. Might even play myself. The cash is gonna roll in. It's all part of The Plan".
"If you say so, sugar lump", replied the Duke of Dim vaguely. "I say, hang on. Did you say that we've got that DeGenerate woman as a neighbour? Creature's a damn tuppence licker!".
"For Gaawd's sakes Harry" rasped Meghan, "how many more times? Don't talk like that! We're playing the Duke and Duchess of Diversity, you idiot!".
"Oh sorrers again, old thing", muttered Halfwit remorsefully, "just that a chap's got to draw a line, and what have you". His attention wandered once again, but then his face brightened. "I say sweetness", he burbled, "why don't we throw a house-warming bash? We could invite the Obumas, and Bill and Hillary Clintstone, and that George Clueless chappie. We could do fancy dress. I'm sure I've got my old Nazi costume somewhere…".
The Duchess of Deceit clamped her eyes together, shook her head, and drew in a deep breath. "Now listen to me", she snarled, "very carefully. I've arranged for you to make another video to keep us high profile with the common people, and show how much we care. There's a film crew out front, and I've written out what you're gonna say on big white boards. C'mon, let's go".
"Right ho, my belovéd", said the Pussy-whipped Prince, trotting along at the heels of his mistress with puppy-like devotion. "Erm, will you stay and hold my hand?".
"No Harry", explained the Mistress of Manipulation patiently, as though speaking to a child. "I'm off to fire the new nanny. Now try to sound concerned and caring".
The Duke stood in front of the camera and began to murmer woodenly. "Hi, I'm the Duke of Sussex, but you can call me Harry. My wife has told me to tell you all how concerned we are about climate change and all that stuff. In fact, we're soooooooo
concerned about damage to the environment that we've taken extreme measures to limit our carbon whatnot and do our bit to preserve the world's scarce resources. We're absolutely determined to lead by example; so much so that our modest little house in Santa Barbara only has sixteen bathrooms, and the pool isn't even Olympic sized…".
To be continued.
Nominated by Ron Knee