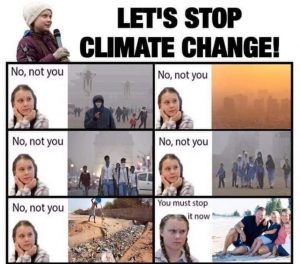 ….Or more exactly cunts that keep banging on about climate change. Extinction Rebellion, Greta Thundercunt and the like.
Well it's now early September and it's cold, wet and windy. In fact this spell of shite weather started mid-way through August. So this year we've had a wet start to the thing, a dry warm lockdown spring that got every cunt and his wife out on bikes, we had a couple of hot days and some thunder and lightning in the summer and it was dry.
Now Autumn has arrived and it's dull and wet. Again.
Mmm, Pretty much a normal set of seasons, given the vagaries of Mother Nature, in an island maritime climate, I'd offer to those unwashed, uneducated lefty anarchists. They can fuck their climate change wank, along with the hole in the ozone layer, whatever the fuck happened to that….
Nominated by: LeonardoDiCunty