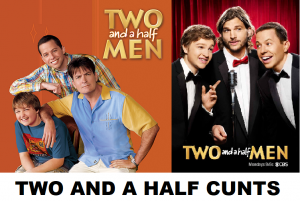 I always enjoyed Hollywood bad boy Charlie Sheen´s performance as the narcissistic playboy with a house on Malibu beach, an endless stream of bimbettes and his loser brother, Alan, who was the butt of his jokes.
When Sheen was fired for slagging off the show´s producer, he was replaced by a heartthrob called Ashton Kutcher who I had never heard of. He was supposed to be a 30-something software billionaire who bought Charlie´s house and allowed Alan to stay on.
I´ve just seen some of programs with him and they are totally unfunny as Kutcher does not have an ounce of Sheen´s acting ability or charm. The plots revolve around fart jokes, slapstick "comedy" in which Alan is constantly being injured and taken to hospital and scenes in which everyone takes pot and starts giggling and laughing.
No wonder this untalented bunch are laughing. Kutcher earns US$700,000 per episode and Alan, played by Jon Cryer, gets US$620,000.
Nominated by: Mr Polly