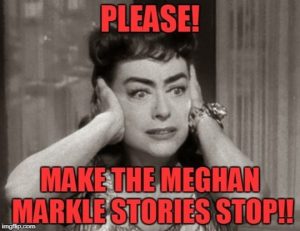 The story so far; Meghan, Duchess of Deceit, continues to plot her step-by-step climb to wealth and power. Now read on.
"Let me see", said Meagain, glowering maliciously at her computer. "Marry a dim prince… check. Have royal baby… check. Claim victimhood status and flee to LA mansion… check. Next, a blockbuster book dissin' them Windsor bastards *cackle*. It'll soon be out!".
At those last words, her husband, Prince Harry de Halfwit, dropped his "Beano" and leapt up. "What'll soon be out, lambkins?" he leered gormlessly. "Is it time for Mr Wiggly to pop out again?".
"Oh for…" hissed the Mistress of Malice. Forcing herself to be calm, she twisted her face into a grimace of a smile cold enough to freeze the River of Hades. "No my love" she gushed. "With so much to occupy you, you've forgotten about our book, 'Finding Freedom'. It's about our escape from conformity and exploitation in the UK, to a new life of riches and opportunity in the land of the free".
"What, with your mater living with us? *haw haw* " he guffawed. "Just my little joke, petal", he added hastily. "But dash it, old girl, I hope you've not put anything in it to offend grandmama. We're down to our last fifty million, and the pater might cut us off without a bean". The Prince of Sighs shuffled uneasily and scratched his bald spot. "I say", he blurted. "Ain't it written by that johnny Obid Scoobydo or whatnot? He's a proper odd looking cove if you ask me…".
"Heavens, keep ya voice down", snarled the Princess of Perfidy. We're the Duke and Duchess of Diversity remember! Talk like that could ruin The Plan!".
"Sorrers an' all that rot", bleated the Half-blood Prince guiltily. "Erm… what plan is that, my little pumpkin?".
The's Duchess's eyes focussed on him like lasers. "Why, to be POTUS, of course!", she said, her tongue flicking greedily across her glossy lips.
"Ah", said Halfwit blankly. "Erm… *a-hem* what exactly is a POTUS, my pet?".
"Jesus H Chraast, Harry", snarled Meghan. "President. Of. The. United. States.".
"But why can't I be President?" whined the Duke sulkily. "I'm the chap here, you know, even if you do wear the trysers. I want to fly about in that big jet, and get driven around in limosines, and have even more flunkies, and lecture the common people about the climate and stuff while they pay all the bills…".
"You'll do all that at my side", oozed the Madame of Manipulation. "You'll be *cough* 'First Lady' or something, and redecorate the White House. Don't worry about it and remember our arrangement. I'll do the thinking, and you don't".
"If you say so, heart's delight", bleated the Duke Of Dim doubtfully. Then his guileless features brightened. "Isn't it aboyt time for Mr Wiggly to play now?".
"Oh Jesus", whispered the Duchess, rapidly glancing at her diary. "I can give you fifteen minutes now", she said grudgingly, but that'll be all until Christmas. I've got a coast-to-coast book-signing and tv schedule to plan".
"I say, look here", said Halfwit indignantly. "Christmas, you say? That's not the kind of thing a chap wants to hear when a chap gets married…".
To be continued….
Nominated by: Ron Knee
(not sure if this is an actual nomination or a bedtime story? But well done anyway, Ron – admin)