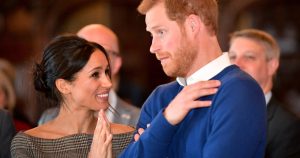 THE MARKLES; An Everyday Story of Cuntry Folk
The story so far; Prince Harry Halfwit and his American bride Megain have grown tired of the pampered, luxurious lifestyle of British royalty, and no longer want to jet around the world between holidays, spending as much as six weeks of their year glad-handing plebs and cutting ribbons. Having thrown in the Royal towel, they've fled to the peace and tranquility of LA, in search of a more down-to-earth, private lifestyle. There, in the privacy of a Hollywood mansion, Megain spends her time plotting her climb onto the celebrity A-list. Now read on.
'Bah!', scowled the Prince of Sighs, and hurled his newspaper across the room. 'Those beastly bounders!'.
'Wha's the matter, honey chile?' asked Little Miss Sparkle distractedly, head bowed over her laptop.
'It's those damned rotters in the Blighty tabloids again, heart's delight' whined the Duke of Despondency. 'They're writing stuff about us again that's downright sal… sal… salubrious!'.
'Salacious', replied Little Miss Sparkle, tapping away busily.
'Bless you', said the once-upon-a-time HRH, nodding furiously. 'Well I tell you, old girl, one's had enough. One's writing to those johnnies at The Mirror, The Sun, The Mail and The Express, telling them that enough's jolly well enough. It's zero engagement with them from now on'.
Megain sighed, and stopped typing. 'Now Harry dearest, I thought we had an understanding; I do the thinking, and you don't. Looky here, we WANT media coverage, we wanna seem relevant, but it's gotta be POSITIVE. Here on in, I'll get ma people ta handle things. Y'know, make sure there's always a reporter an' a cameraman on hand when we do that stuff like walkin' the dawg, or go 'bout town delivering stuff to the common people during the C-19 crisis'.
Harry frowned and took a sip from his iced soy latté. 'Humph. That's all very well old thing, but dash it all, a chap's got to do, and all that rot. I'm jolly well going to give them a piece of my mind!'.
'Ya ain't got a piece ta spare, ya haffwit', murmered the Duchess of Deceit to herself. 'Now looky, an' I'll explain', she continued. 'Y'all see this here story in The Independent? "Harry and Megain donate £90k of royal wedding profits to hunger charity". It's all about us getting media exposure on OUR terms, about controlling the agenda, get it? Exploiting our image ta cash in'.
Harry looked nonplussed. 'Erm, I think so, my little Turkish delight; be the new Posh and Becks and whatnot. Dash it all, I'll leave that stuff to you. Thinking gives me a headache'. With that the Half-blood Prince stretched, and lowering his rapidly balding ginger head over his wife's shoulder, peered at her computer screen. 'I say, what's that you're writing? "Divorce American Style". What's that about?'.
'Uhm, it's ah, a movie screenplay I'm workin' on', replied Megain, hastily closing the computer.
'I say, good show!' cried Harry enthusiastically. 'Is there a part in it for me?'.
'Ya betcha ass', replied Megain with passion.
To be continued.
Nominated by Ron Knee