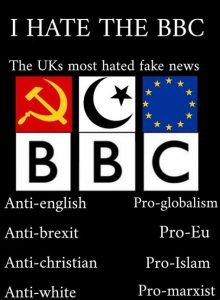 The BBC
As I predicted, there was a sudden increase in coronavirus infections during ramadamadingdong. And as predicted, the BBC blamed the increase on VE Day celebrations.
Their article makes out that the mosques are closed and that they aren't gathering (and won't when Eid starts soon). Well, in Lancashire there have been a few social media posts showing that they've been gathering in large groups outside mosques (and then going inside). It's been going on a over the country too, apparently.
But no, the spike was caused by VE celebrations, of course.
Utterly predictable, utterly pathetic and soon, in my opinion, about to lose their precious licencing fee arrangements.
These cunts have been taking the fucking piss for too long now.
https://www.bbc.com/news/health-52715571
Nominated by Cuntybollocks
The BBC again but from a different angle.
I looked through the TV listings for Weds May 20. And this is what I found on BBC1. The flagship.
The fucking One Show – lightweight pap and free advertising for cunts.
A documentary on the world stone skimming championships. Yes, you read that right.
The Repair shop which features the restoration of a dictionary. Fucking riveting.
British Sewing Bee. Watch cunts sewing. Thrills and spills. Repeat.
People Just do Nothing – substandard shite, escaped from BBC3 about London DJs and rappers. Repeat.
A Question of Sport. Repeat
Islam, Women and Me. No surprise there. Repeat.
At the same time BBC2 had mostly repeats of shite which shouldn't have been seen the first time around.
This is what we get for our BBC poll tax.
I rest my case.
Nominated by Cuntstable Cuntbubble