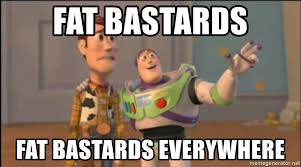 Fat cunts very much deserve a nomination. Over the past few months, since he rsplit and ultimate divorce from her husband, Adele has lot several stones in weight. Good for her us normal might think. And to be honest, the new slimline Adele looks pretty good. Unfortunately, people who aren't normal, SJW's etc, are not thinking "good for her". They're slagging her off. Yes, you read that. Worse still, these sad, demented pricks are accusing anyone who dares compliment for improving her health and reducing the chances of her suffering weight related issue in later life of being "fat phobic". I mean what the actual fuck are these retards on? Apart from a dozen Big Mac meals a day. With a side order of double fish and chips. And a diet coke.
Some are saying that she lost weight because of mental health issues. I say that the only ones with mental health issues are the dumb shits who have gone into a rage at Adele for losing even an ounce in weight. The fact is, fat phobia is not what's at work here, it's thin phobia. We have an entire generation of people who have been raised to believe that being the size of a walrus is not a bad thing, when medical evidence suggests that it very much is a bad thing. Being obese can cause joint problems, heart disease, diabetes and a whole range of other ailments. I've super massive fatties using mobility scooters because they are too fat to walk.
Some people are fat due to medical conditions. But most are not and my philosophy on obesity has always been that if you want to be as fat as fuck, that's up to you. We live in age where the dangers of it are well known. If you're one of those people who is obese through being a greedy cunt, then you accept the risks. Don't expect me to pay your medical bills though when you inevitably get struck down by gout or diabetes or one of the other illnesses associated with being fat. Don't expect me to feel sorry for you when the ambulance and fire services have to demolish your bedroom wall, lift you onto a reinforced trolley with a crane and load into the back of an ambulance that's had to be adapted for use by two ton Tony's.
Being fat is nothing to be proud of. It's certainly nothing to be celebrated. And it definitely does NOT give you the right to criticise people who decide that they want to lead a healthier lifestyle. That's THEIR choice, just like most fatties have chosen to shovel vast amounts of food into their mouths. And then they actually demand that we respect their lifestyle choice. Well why the fuck should we, when they don't respect Adele's choice to stop being fat? And let's not forget, the people currently whingeing about "fat phobia" are the same cunts who whinge about fat shaming. Well, if it bothers you, then you're clearly not as secure in your obesity are you constantly claim to be.
What this boils down to is jealousy. They see Adele looking pretty attractive with her new, slimmed down body and a lot of them wish they could do the same. Well, they could. If they had enough will power to resist the urge to endlessly shovel junk food into their gaping maws. So, fuck you, you thin shaming cunts. Go back to your dozen mega sized pizzas and mind your own fucking business.
Nominated by Quick Draw McGraw