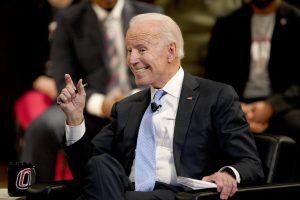 Joe Biden
What a slimy piece of crud this lying, plagiaristic would-be leader of the free world is.
His latest attempts to distract attention from his hypocritical past – using a speech by Neil Kinnock and claiming it as his own, claiming to have been arrested in South Africa in an attempt to visit Nelson Mandela, denying sexually assaulting former members of his staff – is to play the race card.
He has demanded "justice" for a black jogger who was shot dead in February by a former policeman in Georgia. The local official who decided not to prosecute the killer does seem to have screwed up but his decision has now been overturned.
However, this sudden interest by Biden who says his "heart went out" to the dead man´s family is cynical bullshit and aims to get black voters on his side.
Biden blatantly used black Democrats as voting fodder in the primaries in a way that would have been regarded as racist if he had singled out say Irish-Americans, Italian-Americans or Polish-Americans.
I hope Trump tramples all over his mean little face and suspiciously Jurgen Klopp-like pearly gnashers.
Nominated by Mr Polly