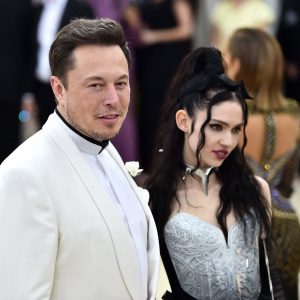 What's in a name?
"Elon Musk and singer Grimes have confirmed they have named their baby X Æ A-12.
The Space X CEO announced the birth of their son on Monday. "Mom & baby all good," he said on Twitter.
He posted that the child would be called X Æ A-12 Musk and his girlfriend later offered an explanation to her followers on social media.
The name X Æ A-12 has been trending on Twitter with many asking how the name will be pronounced."
That's one kid who's going to be fucked up from day one. Surprised you didn't just tattoo a barcode on its head.
Your parents would of done the world a favour if they had just call you Massive Cunt Musk.
Nominated by Sixdog Vomit
Elon Musk and his wife
I will keep this short and sweet. Mr and Mrs Musk have named their child something similar to what Prince did in the 1990's. When he choose a symbol instead of the word Twat, mr and mrs Musk have christened their few days old baby, X Æ A-12. Now unsurprisingly people are asking how you pronounce this. It's simple and easy it is pronounced 'my parents are cunts'
Nominated by Cuntsince1066