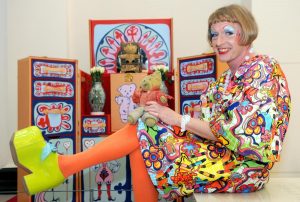 A quick and succinct cunting for Grayson Perry.
This exhibitionist, mincing, pointless cunt is in the paper today talking about a TV series and how it made him cry. Well, you dragged up twat, watching anything you are in would make me cry.
What the fuck has happened to us when creatures like this and that other mincing drag queen Izzard get serious attention rather than the ridicule they so richly deserve.
The cunts.
Nominated by Cuntstable Cuntbubble