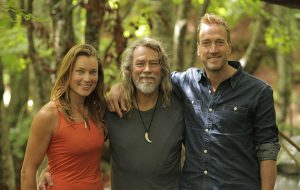 Lives in the Wild – Ch5. Ben Fogle.(TV Programme – Day Admin)
Not really a cunting for Ben Fogle himself.
Mrs Cunter calls him "that posh twat" but despite him always wearing shorts I think that he is a good presenter and his programmes are entertaining.
He always gets stuck into any hard work that he is asked to do.
It's a bit harsh to judge him on his Surrey accent and his predilection for showing his knees.
He goes to meet people that have allegedly decided to drop out of the rat race and live off grid. Day's away from the nearest civilisation (Must be Sheffield then – DA).
But he never asks the very important question, "So here you are, with no electricity or Internet, two day's walk from any living person. Tell me….. How did you hear about my programme and how did you contact the producers to be a part of it?".
He meets people whose only contact with the outside world is an aged mobile phone, charged through a solar panel.
"So if you have turned your back on society who has your mobile contract, how do the monthly bills get paid or if it's pay as you go, how do you top it up?"
There has to be a bank account somewhere.
"When you get a tooth cavity where do you go to get it filled and how do you pay?"
"How come that we are in deepest Alaska and you have just made me a coffee?"
I don't believe for one minute that these people are truly off grid.
Many thousands of year's ago people would have to live in those conditions, they would have to survive on berries, fruit and nuts, but they would have been sickly and die young.
The people that Ben goes to see are just scruffy dossers who live in ramshackle dumps because they don't want to pay the majority of the bills that normal people get.
There is nothing brave or pioneering about them.
Ben, sort yourself out and start telling it like it is.
Expose these smelly, unwashed wasters for what they are.
Nominated by: The Artful Cunter