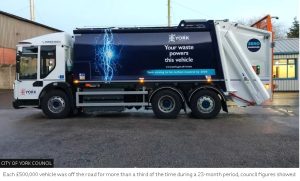 City of York Council have spent £1,000,000 on two… guess what…
Leisure Centres?
Nope.
Schools?
Nah.
Erm…recruiting more bobbies on the beat?
Lol. Don't be silly.
No, they've spunked it on 2 bin lorries. And they don't even work in the rain.
You see, they spunked £500,000 each on two bin lorries that were fully electric to stop Greta crying. The fact the cunting things were out of service most of the time for a year isn't a big issue for the council.
You see, they bought 12 'green' bin lorries, but only two fully leccy ones. The manufacturer paid for (no doubt diesel) replacement vehicles while they worked out how to fix the (many) faults.
Just skirt over the fact you're spunking 500k of residents money on a single bin lorry then?
Oh don't worry, York constituents. They plan on spending more of your hard earned money on making all of the bin lorries fully leccy soon.
£6 million on bin lorries.
I wonder how Greta got to be a multi millionaire at 18 with no qualifications whatsoever, eh?
The Climate Change 'Emergency' is the biggest grift in history. A lot of cunts getting rich by saying the weather isn't perfect…without even saying what weather they actually want, of course.
It's all grift and backhanders.
Cunts.
Nominated by: Cuntybollocks