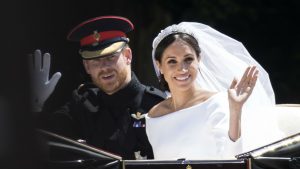 Megan Markle is without doubt a vulgar cardboard cut-out cunt with illusions of grandeur – but as they say, the enemy of your enemy is your friend!
I'm sure bare-faced, brazen ambition is a useful commodity in Hollywood, but to those insulated, horse faced Royals, a trashy, loud American is about as welcome as AIDs…Oh, and did I mention she is half-caste? I'd pay a grand just to see the look on that ignorant cunt the Duke of Edinburgh's boat race!
That said a Princess is supposed to show demure innocence and integrity whereas that greedy cunt's quest for old illegitimate ginger nob has been done with the subtlety of a guided missile. Clearly having failed miserably to make a mark on Hollywood, the next best thing is to get knocked up by a Royal and hang onto their coat tails instead.
As Alexander O'Neil's song goes; "If a woman could be counterfeit, then you'd be IT"
Nominated by Knuckle Butty