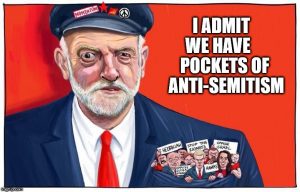 Jeremy Corbyn needs a nomination. Bet you thought you'd never see that cunt's name typed on this site again, didn't you? Well, today (21st July) news has emerged that, in the wake of the EHRC report into Labour's anti-Semitism, Labour has apologised and agreed to pay damages to the seven whistle blowers and the Panorama team, who were smeared over Labour's anti-Semitism scandal, which blew up under Corbyn's "leadership". Rather than apologise to them for what happened, like any decent, honest person would, Corbyn issued a statement, which contained the graceless sentence, "this was a political not a legal decision". And he wonders why he's now on the back benches. Though from what I've heard, not for much longer. There is talk that he will soon have the whip withdrawn. In my opinion, he should be chained to a post and a real whip applied to his back. Vigorously.
This is a…piece of shit…who backed Russia after their attempt to murder a Russian dissident in Salisbury back in 2018, which left two (I think it was two) British citizens dead. He supported the IRA while they were active during "the troubles". He has backed and apologised for Islamic terrorist groups and the political wings, and even laid a wreath at the grave of one the 1972 Munich Olympic terrorists, then tried to deny it in the face of photographic evidence. He has NEVER stood up for or backed Britain or the British people. He led Labour to its worst electoral defeat since 1935. Even Northern constituencies that had voted Labour for decades voted Tory. Yet instead of being dignified and statesmanlike in defeat, he chose to claim that he'd won the argument. No, motherfucker. You LOST the argument, that's why you lost the fucking election.
And of course, there was his behaviour during the shutdown. He turned to parliament despite the fact that, being over 70, he was supposed to be staying at home. He also took to wandering around his constituency, ignoring social distancing by trying to shake hands with people. And then, because there were cameras present, he came out during one the "clap for the NHS" events with a fucking school bell. He wasn't simply doing it to show his support for the NHS, he could have done that simply by clapping. No, he did purely to show the MEDIA that he was supporting the NHS. Even Derek Hatton was less of a cunt than Corbyn. And he was a huge cunt…..
…Forgot to mention. Because of Corbyn's graceless statement, journalist John Ware is now seeking legal advice, apparently with a view to suing Magic Grandpa.
Nominated by: Quick Draw McGraw