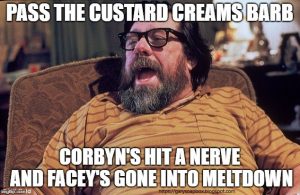 Magic Grandpa – ' I was Right'.
Jeremy Corbyn says the government's response to Coronavirus proves he was "absolutely right" about public spending at the 2019 general election.
The Labour leader told the BBC he had been "denounced as somebody that wanted to spend more money than we could possibly afford" to fix social wrongs, but he said he had been vindicated by the vast sums the government was spending on the current crisis. The Tories now realised they had to "invest in the state", he added.
The measures the Government has taken will bankrupt the UK. No doubt whatsoever. Our grandchildren are going to be paying until their retirement, and this shambling fucking loon sees that as a model for our economy. How the fuck did this middle class, champagne commie get anywhere near power? His politics have never grown up from the Sixth form and he has learned fuck all from history or experience.
What an utter cunt.
Nominated by Cuntstable Cuntbubble