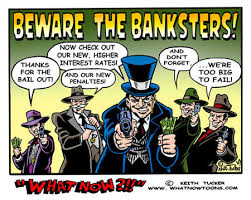 The Banks
As we all know most, if not all of the banks that operate in the UK, are greedy, merciless two-faced backstabbing cunts!
We also know that because of their greed and financial incompetence back in 2007 the world went into a massive fiscal meltdown, bringing with it the economies of many western nations.
Typically they went cap-in-hand to their respective governments, gave the usual sob-story and managed to suck untold billions out of the various Treasuries around the world with little or no interest to pay, and very tenuous rules on how those loans should be allocated and paid back.
Needless to say as the economies struggled to recover the banks were soon back on track doing what they do best – creaming the plebs with loan/mortgage restrictions, financial penalties, high interest rates and fuck knows what else, while not concerning itself too much with paying back their generous loans to their respective governments.
Fast forward 12 years, and the banks are at it again, although this time the catastrophe is far worse because its affecting ordinary people, ordinary businesses and the need for governments to find billions of pounds it doesn't have.
The Bank of England cut interest rates to historic lows a few days ago, but what was the fucking point when most High Street banks barely budged lowering their own interest rates.
And despite the government acting as guarantor for SMB business loans during this crisis some of the banks are inferring that they will come after a person's personal assets if they fall into debt with such a high-interest, personal guarantee loan!
Moreover, it would have been nice had the banks reduced interest rates on credit cards & overdrafts during this pandemic. But no. That would go against everything banks stand for. They want it both ways: "Bail us out when we fuck up big time." and "We want our money come what may; and fuck you, your business, your cash-flow problems and your virus!"
Remember that when all this shit is over with, and you see TV ads from the usual suspects saying how much "we care!"
Nominated by Technocunt