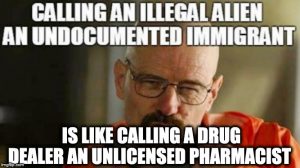 In the midst of the world wide pandemic, the Governor of California has locked the state down. That's 40 million people being asked to limit excursions from home to the minimum.
California has two concerns: brain dead students insisting they will party like it's 1999 for spring break. Yes, the same cunts that condemn my generation as selfish for everything, don't apply the same standards to themselves because they think Corona won't impact them and California also has an estimated 2.5m "undocumented immigrants" or illegal immigrants to you and me.
'Undocumented' suggests that these people are residents someone forgot to count, so not their fault. These are illegal immigrants; these people are now a huge risk in spreading the virus and as they often live in high density slums. They are likely to swamp the state's health care system when Corona rips through their neighbourhoods.
In the midst of a crisis unprecedented in the lifetime of most Californians, the government is concerned about the poor, undocumented immigrants.
Wokeness is not just stupid; for many it will be costly, or even deadly.
Nominated by Sixdog Vomit