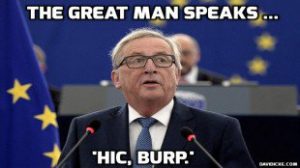 Jean Claude Juncker is a prize cunt. After all his other anti-British bullshit, he's come out with a corker. In a recent speech, he's now saying that British planes flying into EU member states will banned from landing, and if they ARE allowed to land, will face a FOUR day quarantine. Someone really should be keeping this corrupt little Hitler away from the sauce. We have agreements with countries all over the world, including EU countries, dating back to 1947 that allow British airlines to enter foreign airspace and land at their airports, it has fuck all to do with the EU.
In any case, if the EU did try to enforce this ban, they would have to enforce it with ALL nations airlines, otherwise it would the EU would be proving to the entire world that they are discriminating against the UK, solely because we invoked our democratic right to leave their corrupt, totalitarian club. If we had a leader with a spine. A leader who believed in Britain, and putting Britain, they would have responded that blatant threat by pointing out that such a ban would work two ways. They would also point out that EU member states do a LOT of trade with the UK, which would drop to zero if the EU tried to ban British airlines from EU countries.
Unfortunately, we don't have a leader. We Theresa the appeaser. A woman who, it's recently been reported, is considering watering down the UK's ability to make free trade deals with the rest of the wall, on the off chance the EU will agree to give us a shitty deal when we leave.
Nominated by Quick Draw McGraw
On the day we leave the EU without a deal (CRASHING OUT) we are led to believe:
Our aircraft cant take off.
Our food standards won't be accepted.
Our driving licences and even our cars won't be acceptable
Pet passport delays for fuck's sake
No UK product will be acceptable in the EU until verified which could take months or years.
Empty supermarket shelves (well, no organic quinoa)
Long queues at Dover (which seems to be the only UK port the fuckers recognise)
There will be a desperate au-pair shortage
Civil unrest will break out (except in London where it seems to be the norm)
The IRA will invade.
Every day another pile of wank is added to this list.
It is all bollocks. Fuck the EU. Fuck the Irish border and fuck the Remoaning self-interested cunts who put it about.
Nominated by Cuntstable Cuntbubble