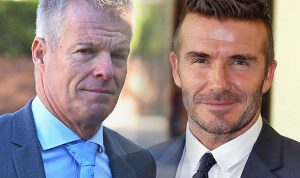 A mega-rich cunting for Sirless David Beckham who clearly believes that being rich and famous puts him above the law.
Caught doing 59mph in a 40 zone, Beckham is too important to pay an £80 fine and take the points on his licence. He'd rather employ a loophole lawyer at £10,000 a day to get him off. How? Well, it seems the penalty notice must be issued in 14 days and the police took 15. So after wasting 5 hours of the court's time, he walks away scot free. What a egotistical self important little shit!
But never mind. Because now the bugger has been nicked for using a mobile phone while driving. Needless to say he's contesting it with his £10,000 a day lawyer raking in a bit more dosh in the process.
Still, that should put another nail in the coffin of his knighthood with a bit of luck. Lady Victoria will not be pleased.
What an arrogant insignificant little cunt this man is!
Nominated by Dioclese