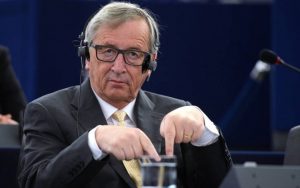 Jean-Claude Juncker is a cunt! President of the European Commission Jean-Claude Juncker has been accused of intimidation for warning British voters that "deserters will not be welcomed with open arms". Sounds like intimidation to me too…
Now, however, he has used an interview with the French newspaper Le Monde to offer stark views on the matter, saying: "If the British leave Europe, people will have to face the consequences." Hmm sounds like a threat and the strength of the comments are all the more surprising given the fact that to date the European Commission has been careful not to undermine the UK referendum campaign.
Once again we see that the EU is held together only by blackmail, bribery, manipulation and threats. Well Done Juncker you goat fucking bellend!
Nominated by: TitSlapper