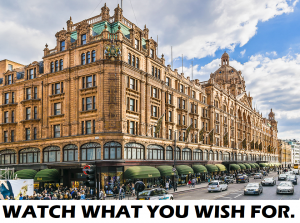 Shite customer service needs a cunting, nothing boils my piss more than cunts who make trying to buy something more difficult than it needs to be, I doubt I will get ant sympathy for the one, but cunt companies and cunt policies need to be dragged kicking and screaming into the daylight.
This is the well known high end shop in Knightsbridge in Londonistan with the green and gold logo.
There was a watch I wanted to get and there is a waiting list and the policy that they won't post it, so needs to be collected in store, so 11 months after putting my name down I get an email to say God has smiled on me and my name is at the head of the list, goody, goody thinks I.
The trip from South Wales to Londonistan is a pain in the ring, I'm super busy, my aging 5 and a half litre Merc isn't allowed in without paying shit loads of charges risking violence from Greenpeace and then I have to park the fucker and walk to said shop without being mugged by moped gangs or accosted by faggots. So I think I will have someone pick it up for me easy,,,, fucking hell these cunts won't take a card payment over the phone, bank transfer, no, WTF cash no, fuck it OK I will come over on fucking Sunday, oh we only take payments between 12.30 and 1.00, WTF do want to sell this watch or what, on top of that these cunts don't ring back when they say they will, don't email, don't answer the fucking phone to the point we're I thought stick the watch up your arse cunts, you have now really pissed me off, fuck you I'm going to buy a different watch in Cardiff.
Never have I ever dealt with difficult cunts on this level, I don't believe all the usual camel fuckers that frequent this place usually have to put up with this bollocks…. Fucking Unreal, Aldi's customer service beats these fuckers hands down…..
Nominated by: Fuglyucker