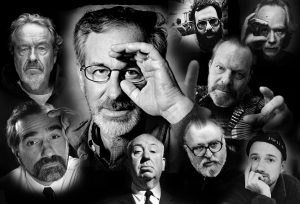 (Old school film directors – Day Admin)
Never has the term visionary been so misapplied as it has to these cunts.
M. 'Night' Shyamalan – Had a couple of hits but since Signs has produced cringeworthy shite. Signs was marred by aliens being allergic to fucking water, on a planet covered in fucking water.
J.J. Abrams – made a career from copying Spielberg for one film then Michael Bay for the rest of his career without ever mastering how storytelling in films actually works.
Helped destroy both Star Wars and Star Trek, simply by rehashing plots of previous films of each property (not a 'franchise', you goddamn dirty Yanks) and making them for fans of The Fast and Furious films.
Rian Johnson – Made a decent science fiction film with Bruce Willis in Looper, but fucked up the middle of the new star wars trilogy and went on to direct Knives Out, another film that cheats the viewers and doesn't seem to care.
Colin Trevorrow – yet another one-hit, one -tit monkey who made a middling indie film about time travel (Safety Not Guaranteed) and was given Jurassic World to play with. Effectively a special needs remake of the original that American geniuses lapped up, and a betrayal of the series created by Michael Crichton.
Trevorrow is another cheap no-mark drafted in by Disney to write and direct the last chapter of the Star Wars films but it didn't meet Kathleen Kennedy's warped expectations so he was given the boot.
Josh Trank – Another one-hit indie wonder who was hired by Fox to reinvigorate their mostly unadaptable Fantastic Four property but he ended up going nuts in his hotel and making no improvement on the relatively solid efforts of Tim Story in the noughties.
Understandably, more has come out as to what led to Trank's unravelling during production and it seems the studio were making things much more difficult than as previously revealed.
Still, one decent Indie film about kids gaining superpowers is not a reason to throw wunderkind at him.
As for the subject matter, will a stretchy genius, a Brooklyn heavy made of bricks and a woman who turns invisible but gets a lot of revealing nosebleeds ever belong outside of a comic book? The character with the most cinematic ability (the human torch) has the least interesting personality..
A film of the fantastic Four should've been made when Dean Jones was still driving Herbie.
Joss Whedon – creator of Buffy; The Vampire Slayer and destroyer of the art of dialogue. Raked money in for Marvel with the Avengers but ultimately created the trend for soulless billion dollar cartoons-posing-as films.
Turns out this male feminist treated actors like cunts when working on the set of Buffy, and to think the bastard attended Winchester College.
Oh, so did Seumas Milne and Rishi Sunak!
As for cinematic visionaries there's also James Gunn who 'caught lightning in a bottle' with his entertaining cartoon Guardians of the Galaxy but has put nothing but more spandex dross since.
Last and perhaps least of the irritants is Zack Synder. known for his over the top, hyper-stylised adaptations of comic boo… sorry, 'graphic novels'.
Snyder has stayed with the trusted formula but things fucked up for him as Warner brothers tried to copy the success of Marvel and Disney and created such bloated, moronic CGI epics of their own as 'Batman vs Superman: Dawn of Fuckpigs' and 'Fuckpig League', the latter of which fell into disarray during production for all sorts of reasons too boring for most cunters and all too embarrassing for the actors and studios involved although the one that is most ridiculous is worth explaining; in one of these films Superman has a CGI top lip because Henry Cavill wasn't allowed to shave his moustache as he was filming Mission Impossible with not-gay micro-tyrant Tommy Cruise.
One scene depicts Superman being brought back to life with a light-up Rubik cube. It made me think, 'if only these 'visionary' cunts all perished so that Tony Scott could return to the living, the entertainment industry would be all the better for it'.
I include this link for reference, and because it made me laugh…
Nominated by: Cuntamus Prime
(Just a quick note to say there will be an additional and highly topical Nomination at 11am today. Thanks – Day Admin)