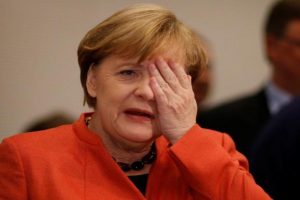 Mad Mütter Merkel is ein big cunt, isn't she? Again.
We can have a deal but we must "commit to accepting the rules." Oh. Has this loopy, tunnel-visioned dough-faced frau been in a coma for 26 months? Has she gone blind from overdosing on sauerkraut? Did the frumpy harpee miss our Referendum because she was concentrating on rapey immigrants and shoring up the concrete bollards outside der Khristmås markets too much?
We know the Fourth Reich supports/loves/is the EU. We know it suits the Fatherland to have a captive, enslaved market to whom to flog its Teutonic tat. We know the EU is perfect for easing the, erm, guilt of those difficult early 20th century years. This, though, is more schizen, perhaps even the last gasps of power before the Queen of Europe (© Angela Merkel) is finally usurped.
A future of global, tarrif-free cars await our the British buyers so…
Nein, danke-shun, überKunt.
Nominated by Captain Magnanimous