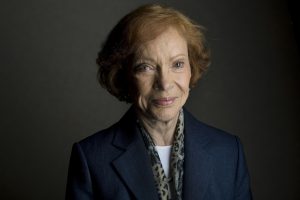 Congratulations to Lord Biryani who correctly predicted that the next celebrity death would be Former US First Lady Rosalynn Carter who died this afternoon aged 96 in Plains Georgia.She had been diagnosed with dementia earlier this year and it was announced 2 days ago she had been placed on hospice care two years ago.Her 99 year old husband the Former President Jimmy Carter has also been on hospice for the past 9 months.Mrs Carter was best known for humanitarian work and mental health advocacy.
Commiserations to Captain Quimson who picked prolific actor Joss Ackland who died aged 95 today.His death was announced about 20 minutes after Rosalynn.
On to Dead Pool 307:
The rules
1)Pick 5 famous cunts you think will conk out next.It is first come first serve and no duplicates are allowed.You can always be a cunt and steal someone elses nominations from the previous pool.
2)Anyone who nominates the worlds oldest man or woman is a cunt who will be ignored.
3)It must be a famous cunt who we have heard of.
4)No sapping picks mid pool unless already taken.
5)Hits are rewarded based on the chronology of death reporting not necessarily chronology of death.