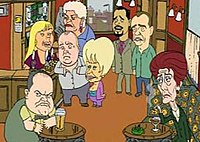 "Good afternoon. This is IsAC's culture, media and entertainment correspondent Ron Knee reporting. Followers of the site will be well aware of 'EastEnders', the BBC series renowned for its gritty yet realistic depiction of East End life. I'm delighted to be joined by the show's executive producer Josephine Bloggs, who is going to tell us about a couple of stunningly original plot developments".
"Hi Ron! Hi everybody! Please call me Joe. All my chums at Auntie do. So let me
start by revealing our new 2023 Christmas storyline. Are you ready? There's *gasp* going to be a murder in the square on Christmas Day!".
"Huh? We only gave you this interview because you promised some 'original' content. There have been over thirty murders in 'EastEnders' to date!".
"Yes but this is a first. A murder on Christmas Day. At least I think it's a first; I'll have to get back to you on that one. Anyway that's irrelevant. What matters is we're giving the punters what they want. The fans like nothing more than a whopping dose of despondency and misery during the festive season".
"Er, right. So what else have you got for us?".
"Well now this really is sensational. I'm letting the cat out of the bag *snigger* but just between us, I can reveal that Michelle Collins is returning to the show as Cindy Beale!".
"But hang on. I thought that the character died in prison sometime in the 1980s. That's hardly true to life is it?".
"Oh don't be a grumpy old crosspatch. It's a real first for the show, just like when we killed off Dirty Den, then resurrected him, then killed him off again. People do 'die' and come back in real life you know. Cindy might've been in a coma or something for 25 years".
"Cosmic. Well thanks for joining us Joe. I'm sure that our followers are reassured to learn of the BBC's on-going commitment to realism in drama. You can rest assured that on the basis of these revelations, they'll be flocking to renew their licence payments in their thousands. This is Ron Knee, for IsAC, returning you to the studio".
Nominated by Ron Knee.