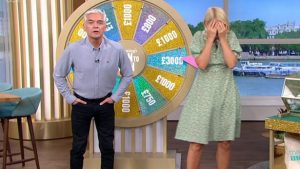 An emergency whoops-duckie, whose after my seat? cunting for this elderly, lump-wristed old queen, who sits on his well used arse every weekday morning, being one of the girls in a show described as "the crown jewel" of daytime TV (This Morning), which if true, shows how shit daytime TV is.
This old uphill gardeners has been taking over the tabloids for the best part of the week – it seems he and his fellow lady presenter have been hitting each other with their handbags (metaphorically) in recent weeks – just an ordinary girly squabble but this powdered old drama queen has taken it further and has now apparently consulted a lawyer AND a PR man – I hope the latter remind him you can't polish a turd.
He has had a long career, mincing round gushing at "celebrities" and womens fashion, time now for a younger poof to take over. Phil, nobody loves a fairy when he's forty. Remember that.
Nominated by W. C. Boggs.
More on this self confessed liar below from Chuff Chugger
If think the point of this additional cunting, that it has since come to light in the last few days (a few days AFTER he said he would be standing down, which joe public assumed to be because of his family connection to his kiddie fiddler brother…and the historical issues with him denying he was gay, then admitted he was and then admitted he had been having secret gay sex whilst also sleeping with his wife…and the rift which this brought on between him and Willoughby)
Well, that's what I thought..but that now clearly isn't the case…on top of all that it has transpired he was ALSO having an on off affair with a junior male work colleague…which he had previously denied. And I suspect this was what the rift was all about and the straw that broke the camels back. Making him more of a cunt than previously reported in an earlier nom of the same week.
Cunters be aware to avoid words that will put you into they spam bucket on this nom also stay the right side of legality C.A.