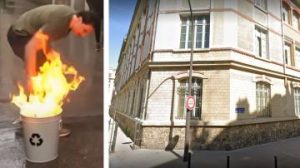 News from across the Channel, cunters. As we all know, our Gallic neighbours can always be relied upon to provide much entertainment by rioting and setting Paris ablaze, at which point the CRS wade in and crack lots of skulls. Great fun to watch.
Step forward one Victor Immordino with a street protest of his own. Victor teaches English at a school in Paris and he gave his students prior warning of what was going to be in their baccalaureate exam. Unfortunately the school changed the questions at the last minute and, quelle surprise, the kids all failed. 'Catastrophic' was Victor's response, who then took the 63 papers outside, tore them up and set them alight as a protest against 'the system'. The pupils had studied English for 7 years and could barely string 2 English words together, he complained. A strange coincidence, because most school leavers in this country can barely string 2 English words together either, but I digress.
What is really bizarre is that almost all the YouTube comments support him – it's all the fault of 'the system'. It has, of course, nothing to do with the fact that Victor is a fucking useless teacher, he tried to cheat and he got caught out.
Sadly it seems that Victor has foie gras for brains, because Inspector Clouseau takes a dim view of this kind of thing and he could be looking at a ten year stretch. I don't know about setting exam papers on fire, Victor, but after a couple of weeks in the slammer your bum hole is going to feel like it's on fire.
Ooh la la!
Nominated by Geordie Twatt.