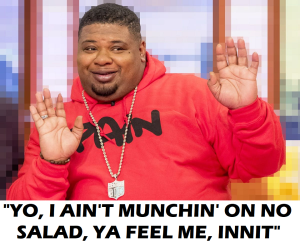 Slimfast are cunts …
… for this fucking Ad.
https://www.youtube.com/watch?v=Ab9uHuExUsY&t=2s
The Ad on TV is 30 seconds long while this seems to be a shortened one for the young twats on ChikChok.
I thought it was a fucking spoof when I first saw it because the advocate is a fat fucker who doesn't get any slimmer. Meanwhile, all the clowns who fall for his shit rap don't need the shit he's peddling.
I'd buy his shit if it came from Colombia, And if it did, he needs to get high on his own supply, the fat cunt.
From Wiki about the fat cunt.
'Tyrone Mark Lindo (born 16 November 1985), known by his stage name Big Narstie, is a British MC, author, rapper, singer, songwriter, comedian and television presenter.'
Of course he fucking is. What is missing from his (no doubt self-written) bio is that he's a fat, talentless cunt.
Nominated by : Dark key cunt