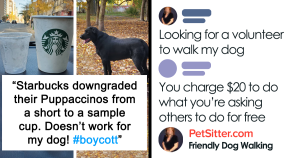 'B-b-but you're not dog friendly', the dog owner wails on a business's Farcebook/Twatter/Instacunt page, as if not allowing dogs on the premises is some sort of original sin.
Heaven forbid that some of us may not like dogs, and may ourselves want to access public and private spaces as well. How heinous we are for not enjoying the delights of fleas, slobber and loud, incessant barking.
Quite frankly I welcome it when some businesses buck the trend and have an 'assistance dogs only' policy – some dog owners need to realise that the world isn't tailor made for them and their mutt.
Nominated by OpinionatedCunt, link by C.A. who says "please add you own in future".