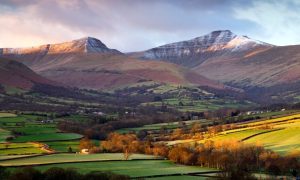 I don't mind the Welsh being Welsh. I mean, someone has to be although their personalities seem to reflect their climate – wet and miserable.
But all this renaming of famous places into Welsh – is it not really aimed at excluding the English? And making us look stupid when we attempt to pronounce them.
Yes, I know the Welsh nationalists say it's all about preserving their language and culture but less than 10% of the people in Wales actually speak it. And that Welsh anthem/folk song which says "we're still here" and all that crap. Well, where would they be but in Wales? The North Pole?
Fact is, if you tried to speak Cymru in Wales most people wouldn't understand you. I can see the point of speaking French in France or Italian in Italy. They are the native languages. But Welsh in Wales? Do me a favour. Fair enough, teach it as a second language if you must in taff schools but don't inflict this tongue-twisting, vowel-free, spit-spraying monstrosity on the rest of the UK.
This is all part of the woke agenda which has now reached the valley boyoes (and girloes plus non-binarioes). Good Evans! (I see what you did there. Well played – NA)
And the lovely Suzanna Reid agrees with me. Need I say more?
Nominated by : Lord Helpus