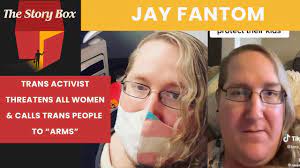 One of the sticks that transgender women like to beat us blokes up with is the question 'would you date a trans woman?'. Answer no and of course, you'll be promptly branded a transphobe.
Well I can safely say that after seeing the epitome of loveliness that is Tara Jay, I'm definitely no transphobe. In fact, I'm haunted day and night by dreams and visions of this utterly alluring and sensual creature. She's got every soft feminine charm and wile in her armoury, and she deploys them with devastating effect.
Forget that utter dog Salma Hayek. From now on I worship at the shrine of Tara Jay. It's love guys. As the Borg would say, 'resistance is futile'.
Nominated by Ron Knee. I have to say Ron that this is one of the ugliest fuckers on planet earth. C.A.(Cunt Admin)