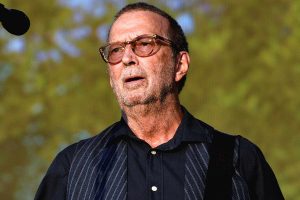 I am not going to go on about his 'racist' rant from Birmingham in 1976. There are enough 'But… But' lleftie cunts who have documented that part of Clapton 's 'legacy'.
I think he is a cunt for what he did to his wife, Pattie Boyd, during their marriage.
Clapton's mate, George Harrison, was married to Boyd during his Beatles heyday. But Clapton 'decided' that he wanted George's (supposedly his 'best mate) old lady and he pursued her and declared he 'couldn't live without her'.
Anyway, Eric eventually gets his way after several outpourings and declarations in songs like 'Layla' and 'Bell Bottom Blues'. Rock star, rich as fuck, nicks a Beatle's glamorous Mrs. Any other lad would see all this as a result. But what does Clapton do when he finally marries her? He beats her up on a regular basis and he also rapes her. Now, there is no 'allegedly' about this one. Clapton admitted that 'there were times when I just took sex with my wife by force and thought that was my entitlement. I had absolutely no concern for other people at all.'
Of course, he blames the sauce and the smack for such monstrous behaviour now. But there are some things that simply can't be excused, and rape is one of them. Also, when the Me Too bandwagon gained momentum a few years back, how did this twat slip under their radar? Was it because he was a 'cool' rock star, and he didn't fit the panto villain bill like Savile, Hall, and Gadd? Abuse is abuse, isn't it? And the ridiculous and hilarious thing is many (certainly online) believe Clapton's 'racism' and 'views' are worse than how he treated his wife. Fucking astonishing….
https://apnews.com/article/314a3a689dd3e15ebbc8d567dfadb06f
Nominated by : Norman