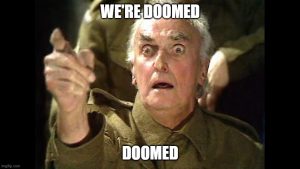 PROJECT FEAR – Doom, Gloom and the Mainstream Media
A massive 'WTF' Cunting for Television and Radio media, Newspaper editors, online bloggers, pundits and Westminster politicians who incessantly feed us endless predictions of doom, gloom and tales of woe.
"It's a crisis", "It's another crisis", "the Migrant Crisis", "the cost of living crisis that's affecting families", "we're in the middle of an energy crisis", "the climate crisis must be adressed by the UK" …. etc … etc
The Covid Pandemic
Brexit crisis as lorries queue for miles in Kent
Constitutional crisis over Northern Ireland border issue
Downing street broke covid rules
Tory leadership crisis
Scottish Independance referendum plagues Wrstminster
New bird flu outbreak
Major shortage of turkeys for christmas
minimal egg production as birds are culled
Drought risks as global warming causes reservoirs to dry up
Energy cost rises out of control
Gas shortages as Russia limits pipeline flow
High risk of powercuts during winter
Age concern warns of risk of pensioners freezing this winter
Families forced to choose between heating or eating
400% rise in food bank usage
Truss growth policies causes markets meltdown
Kwarteng sacked and Truss ousted after worst 3 weeks for country
Northern Ireland government crisis as parties fail to compromise
Albanian criminal gangs flooding into UK
Immigration out of control
Victims fleeing persecution forced to wait over a year to be assessed in unacceptably poor 4 star hotel temporary accomodation
Motorways gridlocked as ponces glue themselves to gantries
Morons throw custard over works of art
Russia threatens nuclear strikes if West continues supporting Ukraine
Civil servants living in mortal fear of harsh words as ministers 'bully' them
Inflation spitalling out of control / xxxxx (insert organisation here) out on strike over pay …..
(Consider yourself very fortunate I could be bothered to turn this lump of text into a bulleted list for readability. See Nomination Rule #4. Grrr – NA)
I remember when news readers read facts out, impartially, in-passionately, calmly, whether good news or bad. Today, it's all panic, scare mongoring, too busy calling for heads to roll or pushing agendas.
I went to sleep before the pandemic – woke up and found I was back in the 1970's. I want a refund. I want rationality back. I want optimism back. I want my country back …
Nominated by: Lord of the Rings