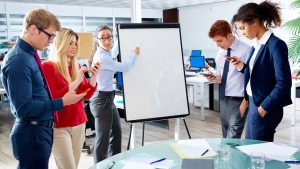 Have been spending the last few days working at a customer-site sorting out some of their IT infrastructure, most of which needs some serious upgrading.
Anyway, during my time there I could not help but notice that a lot of the staff were pissing about on their phones and tablets rather than focusing on what they're paid to be doing (it's a credit ratings agency of about 70 employees).
Because their datacentre has glass panelling, I can see right into their main office of about 30 people and most of them were fucking about on their phones, standing around by colleague's desks taking selfies and constantly staring at their phones.
There is no adjoining offices for the bosses, but if they saw what I was seeing they would be giving their entire team a right royal bollocking (unless they themselves were tap, tap, tapping away on their own devices)
This isn't the first time I've been to customer sites and seen similar activity. It wouldn't be quite so bad if it was during a tea/lunch break, but quite a few people are quite brazen about it.
Such low productivity seems to be de rigueur these days and is it any wonder a lot of cunts still want to work from home!
Therefore, when you're trying to contact customer services by phone, this is what they're probably doing while your 76th in the fucking queue.
Nominated by: Technocunt
And speaking of cunts on phones, here's another from Captain Magnanimous
People who talk into their mobiles on loud speaker are cunts, aren't they.
Furthermore, if you hold the phone at an angle to speak into the bottom to seem like you're important, you achieve bonus cunt points.
If you do this, you probably have a man-bun. You might even have a circle beard. You definitely vape. You could also be one of those crass mothers in a dressing-gown dropping the brat off at school. Alternatively, you might be a mortgage broker attempting to seem important. You definitely wear Crocs.
They probably brush their teeth before eating breakfast.
These people are crass idiots. Why do I not only have to hear your mundane, inarticulate opinion, but also your equally banal, fuckwit mate's response? If only the airbag would open whilst you did this driving and scatter your wretched teeth around the car.
You look like a cunt shouting into a piece of toast.