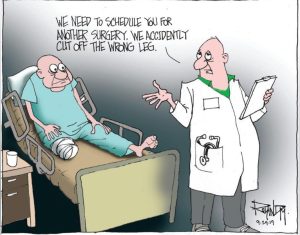 The first rule of medicine is do no harm, now for some reason this has gone over the head of our esteemed NHS.
A number of years ago I was diagnosed with PADs (PAD Terminology – Day Admin) which if you check on lower limb you will find it is inoperable, bit of a bastard but fuck it that's life.
So to add to it I was hit with a DVT (DVT Terminology – Day Admin) in the same limb, given a paracetamol by the nice chap at AE and told to fuck off.
Obviously things got worse and I ended up being referred to a consultant who said that they could do better. A bypass he said!
Now I am thinking fuck me, NICE guidelines say that this is not possible, but as the man says "things have moved on" and I went for it.
So after a rather extreme operation where spare parts were stripped from one leg and put in the other, I woke to have a pulse in my leg, first time in 4 years, truly a miracle of modern science!
it lasted 3 days, next thing you know I am writhing in agony as the transplant fails, they tap pencils on their teeth and decide whether to re intervene or not, decide they will go for it and then cancel at the last minuet saying that the chances of the graph blocking again is too high so they wont do it.
Now for the fucking punch line, the consultant (some twatty hospital one) says, well we have tried and I am afraid there has been no change, you are back where you are.
At this point I am supposed to say "Well thank you doctor I know you tried your best" apart from I didn't.
Now I have just r-eread Nice guidelines, and it has been updated in 2020 so things have changed, stents are ok and bypass is ok, where as they were not before.
Thing is I was not the only one, there were 3 of us who failed last week, so that is 3 of us who now have two fucked legs each, we have lost mobility to these actions.
Stop playing god and sort your shit out.
Nominated by: lord benny(not quite deceased, but close)