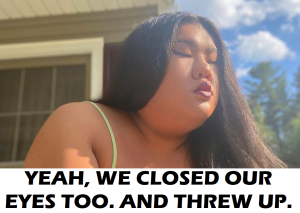 One for the ISAC horn section.
Ladies, gentlemen and indeterminate fuckwits, I bring you Brian Nguyen…
https://www.spiked-online.com/2022/11/11/an-overweight-bloke-just-won-a-miss-america-beauty-pageant/
Apparently this fat, ugly cunt is a model. As foulmouthed Scottish comedian Jerry Sadowitz would say, fuck my pubic hair. If that gives you the horn, then you need extensive BBT.*
It's bad enough mediocre blokes stealing women's sporting medals. But this was a beauty contest. By no objective standard is fat Brian the best looking one in that group. This is about the judges being 'inclusive' and 'on the right side of History.' Wankers. Worse, fat Brian has nicked a $7500 scholarship from an actual female teenager.
FYI – the redhead on the right of the photo in the link would swallow that much of my spunk she'd be the same size as fat Brian in six months.
* BBT = Baseball Bat Therapy.
Nominated by: Emperor of East Anglia