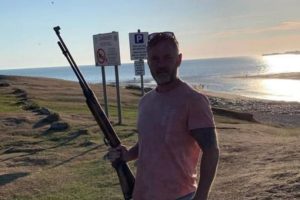 For all you Welshist cunts on this site heres some fucker to give you reason to pause:-
"Gun-toting Welsh nationalist councillor has a message for the English"
Yes you cunts, coming here to steal our water, we have a champion. And he's packing a rifle.
Jon Scriven, a Plaid Cymru representative on Caerphilly Council, posted the picture on Facebook showing him holding what appeared to be a rifle at Ogmore-by-Sea in the Vale of Glamorgan.
"Ogmore-by-Sea tonight for a quick swim and make sure there wasn't any English people trying to cross the channel."
And guess what? No English cunts dared risk it.
Mr Scriven (grand old Welsh name) is available to patrol Dover as you cunts cant manage it.
Iechy da
Nominated by Cuntstable Cuntbubble
---