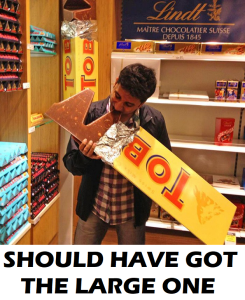 A short and sweet cunting for Toblerone at airports. (See what I did there)
What is the obsession with massive oversized bars of this shit at airports.
I'm sat in T3 Manchester and it strikes me that you only ever see these bars at Airports.
And the fucking price needs it's own separate cunting.
Apparently if you buy 3 you save £6.50 and they'll only cost you £13.
Jesus what a pile of cunt.
Some Toblerone ads for you to enjoy, care of our Chief Chocolatier, Night Admin – NA.
https://www.youtube.com/watch?v=JVz0ZnzHDNo
https://www.youtube.com/watch?v=khszj7rnewg
https://www.youtube.com/watch?v=LC-dsGwLf84
Nominated by: CuntyMcCuntface