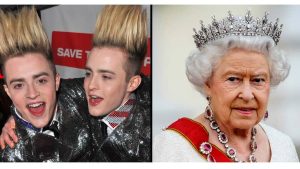 How come have Jedward not been cunted yet?
Last time I heard of these cunts was several years ago. When they were a very crappy Irish novelty act with shit hair. Nothings and nobodies…
But now they have resurfaced. And are spouting disrespectful shit about the late Queen. One 'gem' included them blaming Elizabeth II for what previous English Monarchs had done to the Irish in past centuries. Well, if they want to play that game, we could blame Jedward for all the IRA's atrocities and murders.
The joke is those two plastic Fenian cream puffs have probably never even been near Ulster, never mind lived or served there. And they still won't let up, as they thrive on another fifteen minutes of fame and 'controversy'. These two semtex bummers are now calling for the monarchy to be abolished. For a start, what the fuck have British affairs got to do with two talentless spudfuckers? And the cunts are also sickeningly pro Markle. Well, that tells us all we need to know.
I thought some Irish media gobshite would put their retarded head over the parapet after Her Majesty's demise. My bets were on Sinead O' Cuntor, Cuntlin Moran, Bob Geldaft, Gerry Adams and Morrissey. But Jedward?!🤣🤣 Utter clowns, but I do hope that both get the hatred and retribution they deserve. The cunts.
Nominated by: Norman