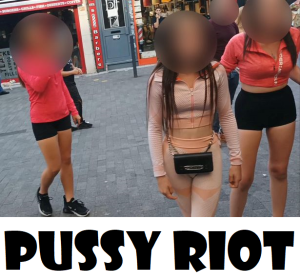 Two articles, same story.
The first is about a load of young girls from the caravan club kicking off inside and out of (surprise, surprise McDonalds) Assaulting people by throwing bottles of drink, abusive, aggressive- general breach of the peace type stuff. They were subsequently ejected by security for the protection of other diners, staff and the premises. Meanwhile, whilst this was going on my wife happened to having lunch in a nearby Thai restaurant with my mates wife, and apparently the male contingent were causing a ruckus in there by generally taking over the place, and some of the associated 'girls' who had managed to obtain food from McDonalds before being thrown out were being let in to the Thai restaurant by the charver lads so they could eat thier happy meals in the Thai restaurant- naturally it then started kicking off in there as the owners weren't too chuffed about it.
Here's the link to this story:
A few days pass, and then we get this story:
I really don't have anything else to add, other than is it any wonder we are becoming a lawless society? Where's the deterrent to people who cause this and throwing a drink over a pregnant woman is now not an offence?
Back in my day, if you were pulled into a police station for doing things like in the first story you would leave with a few more scuff and bruises than you had before you arrived, after mysteriously 'falling down the stairs' at the station whilst in custody.
Nominated by: Chuff Chugger