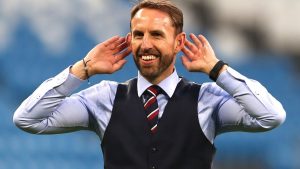 (My fans clearly love me!)
Gareth Southgate and his team of limp-wrested cunts. (This is probably in reference to England's heaviest home defeat – 4:0 – in fuck knows how long! Day Admin)
What a collection of useless spastics, a pathetic crew for the good ship wank. Don't even try to earn your money is their motto. No physical effort is required, just ponce about, falling over and feigning injury.
Just to show how clueless he is, he suggests some progress in his latest failure and expresses future hopes for the World Cup. What a cunt !
As for the vastly overrated Harry "can't talk English properly " Kane, he should be ashamed to take his money.
What a crock of shit.
Nominated by: Igor